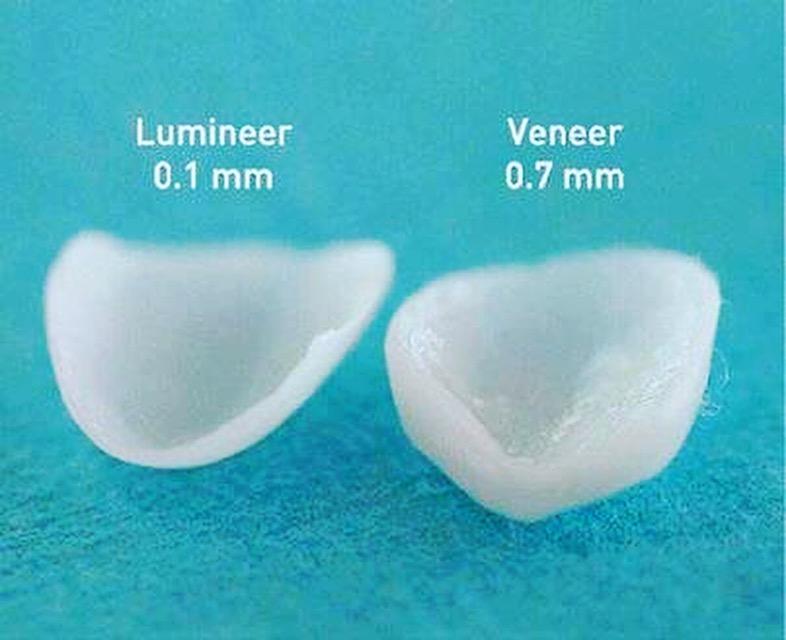 The difference in thickness between Veneers and Lumineers
In as little as two visits to Smile Studio Dental, our dentists can transform your smile with Lumineers®! This advanced and minimally-invasive treatment uses custom-made veneers to give you the exact smile you want. Whether you have chipped, cracked, misshaped, stained, gapped, or discolored teeth, our Lumineers in Falls Church, Virginia, can turn your dental imperfections into a smile you cannot stop showing off. Dental veneers are thin, shell-like restorations that are designed to cover the front of your teeth and instantly improve your smile's appearance. While most dental offices provide traditional veneers, we are pleased to also offer Lumineers®, a specific brand of veneers that provide a more advanced and less invasive treatment.
Lumineers are ultra-thin veneer shells, meaning that they can be directly applied to your teeth without any prep work. For traditional veneers, our dentist will have to trim down some of your tooth enamel and create a rough surface for the veneer to bond to. With Lumineers, however, all of that can be avoided. Because there is no prep work, Lumineers are also reversible! If you decide that you want to remove your veneers, we can remove your veneers and instantly restore your original smile.
In most cases, it takes about two appointments to complete a Lumineers treatment. To start, we will make an impression of your teeth and determine the size, shape, and color of your veneers. Your dental impressions and veneer preferences are then sent to a dental laboratory, where your Lumineers will be custom-made to match your unique smile. During the second appointment, we will make sure that your Lumineers are the color, shape, and size you want before bonding them to your teeth. This step is completely painless and can be done in a matter of minutes.
To learn more, and to schedule your consultation with Dr. Eli Janabi, we invite you call us today at 703-982-2222.
---