Welcome to Smile Studio Dental's smile gallery! Our talented dentists provide comprehensive dentistry to improve your smile and your oral health. We invite you to explore our gallery to see some of the results we have helped our patients achieve. To learn more about our dental services in Falls Church, Virginia, and make your appointment with Dr. Eli Janabi, call us today at 703-982-2222.
---
Wisdom Teeth Extraction:
Snap-on-Smile for the Upper Teeth:
This patient lost his front tooth in a car accident. We were able to treat him using an immediate implant placement with a bone graft. The treatment involved two appointments, three weeks apart. This procedure will improve the function and the aesthetics of the patient's smile during the six-month healing process in preparation for his implant. Dr. Eli Janabi is experienced cosmetic provider, and the patient enjoyed an immediate recovery with a minimum amount of pain. If you would like to know more about Snap-on-Smiles in Falls Church, Virginia, contact Smile Studio Dental at phone.
Gum Grafting
Gum recession exposes the tooth roots and can cause many issues, including sensitive teeth, inflammation, and even tooth loss. Gum grafting may be necessary if the gum tissue has receded. During gum grafting, our dentist stitches grafting tissue onto the needed areas. Gum grafts can restore both the health and appearance of your smile.
Dental Veneers
Using dental veneers, we were able to remove the gaps and spaces between this patient's teeth and provide them with a straighter, healthier and naturally beautiful smile.
Dental Crowns
Dental crowns helped this patient to improve the shape and appearance of their teeth, giving them a healthier and more natural-looking smile.
Dental Implants
Using dentures, we were able to completely replace this patient's teeth and give them back a functional, healthy and beautiful smile.
Endodontic Cases

Case 1: Separated instrument
Patient referred by GP for separated instrument in the lower right first molar. Even with a microscope, negotiation was very difficult and done with hand instruments, rotary files and ultrasonic tips. After 30 minutes of negotiation and irrigation complete patency was obtained and preparation was completed at full working length with Protaper Next and Edge endo files. Obturation completed with standardized GP cones and back fill technique. Patient was referred back to GP for final restoration.

Case 2: Molar retreatment
Patient presented with chronic pain on a previously treated tooth with Sympotmatic apical periodontitis. I was skeptical of this tooth so I recommended the patient to take a CBCT to avoid any surprises. Turns out the patient had a second distal canal that as previously unfilled. Minimally invasive access cavity was done through the crown using microscope. Instrumentation was completed with Protaper Gold and Vortex Blue rotary files. Backfill technique was used for obtruation and tooth was temporized. Patient was referred to GP for final restoration.

Case 3: Endodontic surgery
Patient presented with periapical inflammation on tooth no. 30 due to separated instrument left in the periapical area during their previous endodontic treatment. Endodontic surgery was done to remove the separated instrument, curettage was done to remove periapical granulation tissue and apicoectomy was completed on both roots. Final retrograde restoration completed using EBA, flap was replaced and stutured. Patient is under observation for healing and will be referred back to their GP.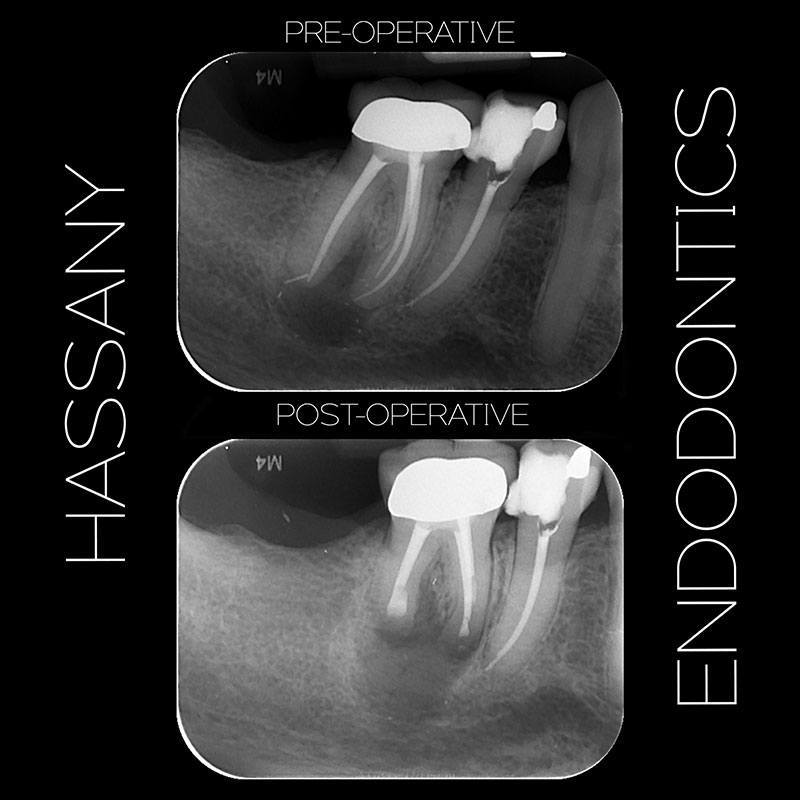 Case 4: Endodontic treatment through crown
Patient referred by GP for pain in tooth 19 upon biting, pulp testing revealed irreversible pulpitis. Patient was unable to withstand X-ray sensor and presented with limited mouth opening so we had to use limited field panoramic imaging. Access was completed through the crown, apical one third of the distal canals was very calcified but patience and size 10K files helped in provide enough patency for instrumentation with Protaper Gold files. After instrumentation was completed GP cone was used to seal the apical one third with AH26 sealer. The rest of the obturation was done with backfill technique. The entire procedure was completed in a single visit with my microscope and patient was referred back to their GP for final restoration.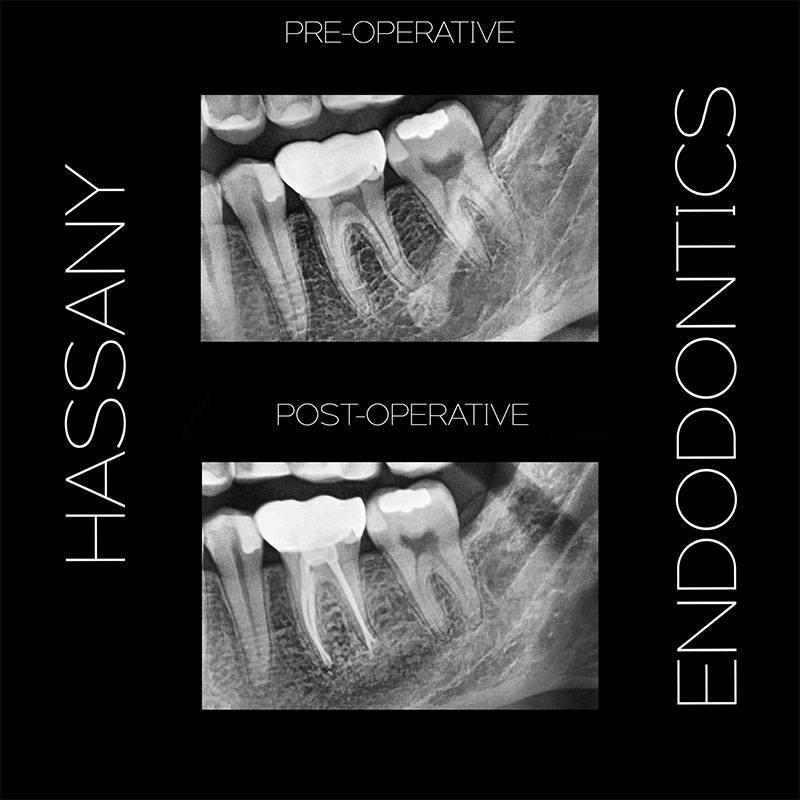 Case 5: Curved canals
Patient was referred for endodontic treatment on tooth no. 17 that had a crown placed previously. Crown came off during rubber dam placement. Conservative access was done using microscope followed by extirpation and biomechanical instrumentation at working length. Rotary instrumentation was done to minimize chance of instrument separation. Obturation completed with backfill technique. Temporary filling placed and crown recemented with temporary cement. Patient was sent back to general practicioner for final restoration.